Description
CWHL

– Children With Hair Loss: More than Just a Cover
The Soulful Mission of CWHL
Children With Hair Loss, commonly known as CWHL, stands tall as a beacon of hope in a world inundated with challenges. This 501(c)3 non-profit organization delves deeper than merely providing hair replacements. At its core, CWHL is devoted to mending the emotional fabric of young souls battling medical hair loss, whether from Cancer, Burns, Alopecia, Trichotillomania, or other harrowing conditions.
Beyond Physical Appearances: The Emotional Odyssey
To the untrained eye, hair loss might seem a mere cosmetic issue. But for a child, each strand lost is akin to shedding a fragment of their identity. CWHL understands this emotional tapestry. They are not just remedying a physical absence; they are filling an emotional void, aiming to heal the invisible scars that often cut deeper than the visible ones.
Unfurling CWHL's Treasure Chest
Venture into the heart of CWHL, and one discovers a world crafted for the beneficiaries. From expert hair care guidance to the seasoned CWHL Salon and Barber Partner, every resource is at the recipient's fingertips. And, in a grand gesture of inclusivity, CWHL invites its beneficiaries to the annual Charity Ball, even throwing in two extra tickets, making it a gala of love, care, and togetherness.
A Journey Illuminated by Numbers
The adage, "Numbers don't lie," rings true for CWHL. In 2022 alone, 620 young souls rediscovered their self-worth, thanks to hair replacements. Since its inception in 2000, CWHL has enveloped over 7,620 children in warmth and care, a testament to its relentless spirit. The horizon promises an even brighter future, with numbers poised to reach stellar heights.
The Great Cut: A Tapestry of Unity
March 16th, 2019, wasn't merely a date; it was history in the making. San Diego became the epicenter of unity when The Great Cut event unfolded. A confluence of over 1,300 individuals from across the world, this day saw The Longhairs etch their name in the annals of Guinness World Records, all for a noble cause – supporting CWHL's mission.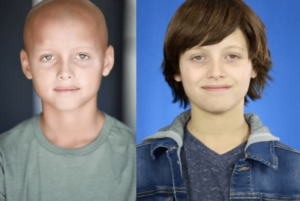 Joining Hands: The Pillars Behind CWHL
Every purchase, every donation is a step towards realizing CWHL's motto, "Covering Young Heads to Heal Young Hearts!"™. This isn't a mere tagline; it's the heartbeat of the organization. The journey has been enriched by the unwavering support of many, including renowned sponsors who have shown immense faith in CWHL's vision.
Behind the Scenes: The Digital Craftsmen
The digital realm of CWHL is a blend of aesthetics and functionality, thanks to the expertise of Ginger Lucy & 3V Design. These stalwarts in web development and graphic design have ensured that the organization's essence is captured and conveyed seamlessly online.
In Conclusion: The Heartbeat of CWHL
Children With Hair Loss is more than an organization. It's a movement, a philosophy, a promise. It whispers to every child that beauty isn't just skin deep; it resonates from within. Through their endeavors, CWHL seeks not just to cover heads but to heal hearts, reaffirming that every child, irrespective of their challenges, is a beacon of hope, beauty, and resilience.
Phone:

734-379-4400
Mail:

info@childrenwithhairloss.us
Social Media Links:
Facebook: https://www.facebook.com/CWHLMI/
Twitter: https://twitter.com/CWHL_org
YouTube: https://www.youtube.com/channel/UCEQsB0ocG7Hdk1hhjKTzTZA
Contact Us to get or offer help!