Description
Hair We Share – Hair donation for cancer patients
 The Power of a Lock of Hair
Amid the bustling streets of Long Island, New York, lies a heartwarming organization that has been transforming lives for nearly a decade: Hair We Share. With a combined legacy spanning over 50 years in the wig design business, this family-owned venture offers more than just hair solutions. It provides hope, confidence, and a renewed sense of self to those battling medical hair loss – Hair donation for cancer patients. This article embarks on an in-depth exploration into the heart, soul, and impact of Hair We Share.
The Genesis of Hair We Share
Origins and Evolution

Founded in 2014, the inception of Hair We Share was driven by a profound desire to fill a void. With the team's extensive experience in custom wig design, they sought to provide top-tier hair solutions to those in need.

The Pillars of the Mission

Beyond just providing wigs, the essence of Hair We Share lies in its mission: to restore dignity, confidence, and self-esteem. They believe that everyone deserves to feel good about themselves, regardless of their medical conditions.
The Makers and the Mission
Suzanne Chimera: The Compassionate Pioneer

With a versatile background spanning cosmetology, marketing, and holistic health, Suzanne plays a pivotal role in not just shaping the organization but also raising awareness about the emotional repercussions of hair loss.

Dean Riskin: The Heartbeat of the Initiative

Dean, an industry stalwart, brings to the table a lifetime of experience and an unwavering belief in treating every client like family.

Faces of Dedication

From Karen Vito's beauty expertise and philanthropic spirit to Natasha Stojanovic's artistic prowess, each member of Hair We Share brings unique strengths that drive the organization's success.
The Journey from Locks to Wigs
Locks of Love and Compassion

Every strand of hair donated to Hair We Share is a testament to human kindness. This section dives deep into how these donations are transformed into custom wigs, bringing smiles to countless faces.

Ponytail Tracking: The Bond of Community

Donors can join the Ponytail Tracking program to trace the journey of their hair donations, fostering a deeper connection with the beneficiaries and the broader Hair We Share community.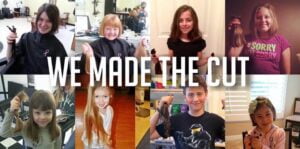 Financial Pillars and Benefits
Empowering Through Monetary Contributions

Financial donors play a significant role in ensuring the sustainability of Hair We Share. By offering tax benefits through their 501(c)(3) status, the organization provides a dual advantage: supporting a noble cause and enjoying tax savings.

Fundraising and Celebrations

Events like the decade celebration gala not only raise funds but also celebrate the immense impact of Hair We Share. It's a tribute to the collective spirit of over half a million contributors.
Tales of Transformation
Stories that Touch the Heart

Meet individuals like Kailey, whose lives have been transformed by the custom wigs from Hair We Share. These stories underscore the profound impact of a simple act of kindness.
Wear Your Heart on Your Sleeve
Merchandise with Meaning

Hair We Share's merchandise shop offers a range of products that allow supporters to flaunt their allegiance to the cause, with all profits channeled back into furthering the organization's mission.
Conclusion: A Lock of Hope in Every Strand
Hair We Share stands as an emblem of resilience, compassion, and transformation. Through the selfless donations of hair and funds, coupled with the relentless dedication of its team, the organization has been changing lives, one strand at a time. And as they continue on their journey, they invite everyone to be a part of their mission – to bring hope, confidence, and a smile to every individual grappling with medical hair loss.
Email:

care@hairweshare.org
Phone:

5164848483
Address:

4 Expressway Plaza Suite LL14, Roslyn Heights, NY 11577.
Social Media Links:
Facebook: https://www.facebook.com/hairweshare
Twitter: https://twitter.com/HairWeShare
Instagram: https://www.instagram.com/hair_we_share/
Contact Us to get or offer help!