Description
HRCC – Helen Rollason Cancer Charity: A Symphony of Hope and Healing
I. Prelude: An Emblem of Resilience
The HRCC – Helen Rollason Cancer Charity, nestled in the heart of Essex, emerges as a lighthouse for souls traversing the tumultuous seas of cancer. Born from the passionate vision of BBC broadcaster Helen Rollason in 1999, the charity stands not merely as an organization, but as a testament to human perseverance and compassion. Its foundational ethos? That every person, regardless of their circumstances, should savor a life rich in quality and contentment.
II. The Heartbeat: Our Ethos and Mission
Unyielding Support: In the labyrinth of cancer, the charity serves as a steadfast guide. It crafts serene havens where individuals are liberated from the shackles of pretense, allowing them to confront their battles with authenticity.
Holistic Healing: Beyond clinical procedures, the charity envelopes individuals in a cocoon of holistic treatments, ensuring that the journey with cancer is one of healing and rejuvenation.
Embracing All: Regardless of the cancer type or its stage, the charity's embrace is universal. It stands as a pillar of strength for those newly diagnosed, those undergoing treatments, and those in recovery.
III. The Ensemble: Collaborative Support
Shared Narratives: Through the corridors of the charity echo tales of resilience. These narratives of shared battles and triumphs form the linchpin of the community, offering solace and inspiration to many.
A Kaleidoscope of Therapies: From counseling sessions to rejuvenating yoga, the charity offers a medley of therapies, ensuring that every soul finds its rhythm of healing.
Warm Spaces: Beyond being mere brick and mortar, the charity's centers stand as sanctuaries of solace. Here, shared stories transform into sources of strength, and support groups become circles of hope.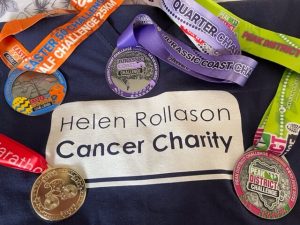 IV. The Crescendo: Making Waves of Change
Acts of Altruism: Every gesture, grand or minute, has the potential to create ripples. From engaging in vibrant fundraising events to marking presence in special gatherings like the festive Christmas Gift Fair, there are myriad avenues to make a difference.
Corporate Harmonies: Businesses, with their resources, can tune into the charity's mission, forging partnerships that resonate with mutual goals.
Volunteering Virtuosos: By donating time and skills, individuals can become an integral part of the charity's symphony, orchestrating change and hope.
V. Interlude: Staying in Sync
Echoes of Hope: Dive deep into the heartwarming tales of lives transformed by the charity. These testimonials not only stand as endorsements but also as melodies of inspiration.
Stay Attuned: With a dynamic landscape of events and updates, the charity ensures its community remains in the loop, constantly invigorated and informed.
VI. Finale: Reach and Connect
Contact Concerto: For those who wish to be a part of the charity's magnum opus, or for those with queries, the charity is a mere call or email away, ever-ready to engage and enlighten.
Navigating the Notes: With charity shops exuding community spirit and support centers offering intimate guidance, the charity ensures that every individual finds their path.
Address: Yvonne Stewart House, The Street, Hatfield Peverel, United Kingdom
Email:

enquiries@helenrollason.org.uk
Phone:

+44 1245 380719
Social Media Links:
Facebook: https://www.facebook.com/HelenRollasonCC/
Twitter: https://twitter.com/HelenRollasonCC
YouTube: https://www.youtube.com/@helenrollasoncancercharity6310
Contact Us to get or offer help!
Working Hours
Now Closed

UTC + 1
Monday

9:00 AM - 5:00 PM

Tuesday

9:00 AM - 5:00 PM

Wednesday

9:00 AM - 5:00 PM

Thursday

9:00 AM - 5:00 PM

Friday

9:00 AM - 5:00 PM

Saturday

Day Off

Sunday

Day Off